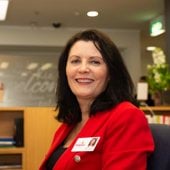 Jodie Berking
Receptionist – Business Services
What do you enjoy most about your role at Harbour Hospice? 
I love it that no day is ever the same here and also the privilege I have of meeting so many amazing families and becoming a small part of there journey.
What does working for Harbour Hospice mean to you?  
I am extremely proud to work for such an amazing organisation and one that makes such a difference to peoples lives.